Modelator product information
Welcome to Modelator, the professional database design tool. Please select a topic:
Introduction
Modelator is a professional database design tool, made by MetodeData. It is based on the well-known Entity-Relationship modeling principle, and has a "easy to use" - but powerful - graphical interface.


You may export the data model to any database format, or reverse an existing database into Modelator to graphically display the data model (for analysis or documentation purposes). You may even use Modelator to convert a database from one format to another!

News for version 4.0
The new version 4.0 is a fully 32 bits application, optionally 16 bit, with several new features. Now full WIndows 95 layout, improved graphical user interface, improved export / import to database by ODBC and more. Please read the news page for Modelator 4.0.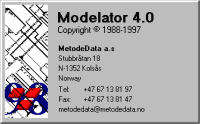 More information
The program is very user friendly, and you will be productive in data modelling from day one! Along with a reasonable price, the system is perfect for all kinds of database developers. Modelator is therefore used by many organizations - from large industrial conglomerates to independent consultants. It is and also used by universities and colleges for the education of students in system design and development.
Please read the detailed information about Modelator for Windows, or select a topic:

Go back to MetodeData Home page